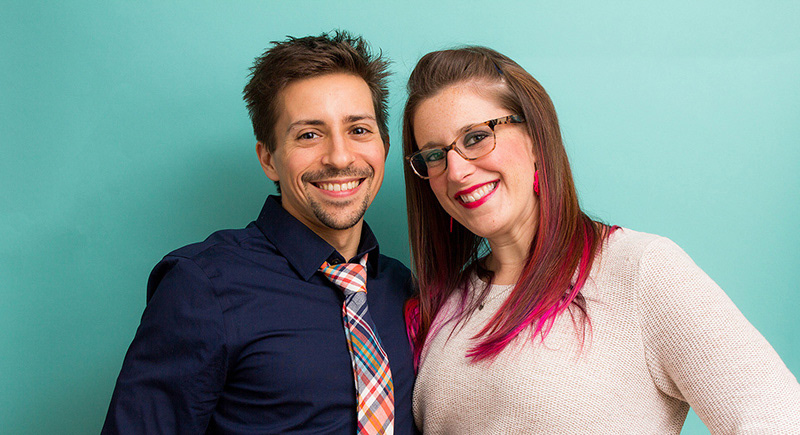 ​​​​​​​Fizz Creative is an award-winning design and branding studio run by Jasen Melnick and Katie Major in Cleveland, Ohio. After working various design positions, we still found ourselves wanting to do more projects that excited our passions. Combining our unique talent for patterns, branding, packaging, and ideas, we decided to strike out on our own. We got the name while talking over a pint of beer, and realized that Fizz Creative was a natural name for people who love beer and design.

We love the work we do because we work with people who feel the same—anyone who is passionate, genuine, and not simply out to make a quick buck. Most of our work is for non-profits and small businesses, but we also collaborate with other designers on passion projects. The most important thing for us is to create work that is meaningful. We strive to help make the world a more beautiful place through intelligent, meaningful design.

Katie & Jasen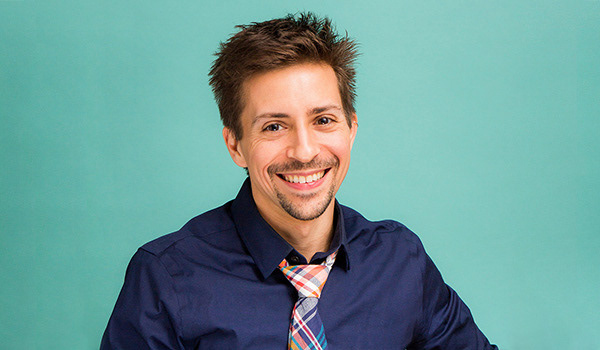 Jasen could be considered the more deliberate partner, always stopping to consider the client's goals and the design process itself. The first idea is never good enough, Jasen wants that truly genius idea, whether it's the 3rd–or 23rd idea.
As a child, he eschewed sports for collecting rocks, hunting for arrowheads, and making cyanotype prints with leaves. Jasen's interest in random projects has enabled him to freely associate between diverse topics–a boon for creativity. He loves making paper crafts and lettering work.

Jasen enjoys designing logos because of the complex challenges that are involved. Jasen also loves international travel, brewing beer, and growing his own hops. Running keeps him centered and energized. Jasen can often be spotted in Lakewood, running and sketching.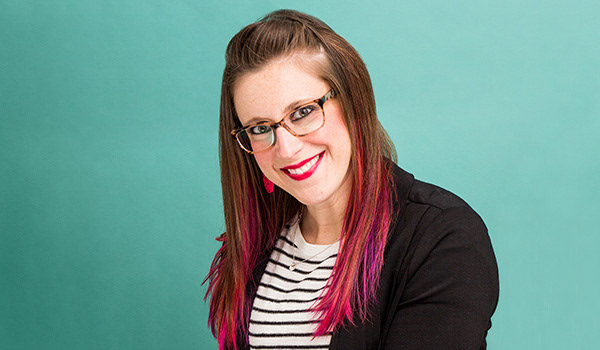 Katie is an absolute juggernaut; teaching design at CIA, directing membership with AIGA Cleveland, freelancing with local firms, running half marathons, and managing Fizz. She is also one of the friendliest people you are ever likely to meet. Just look at how cute her licensed work for American Greetings is. 
Katie graduated from The College for Creative Studies in 2007 and moved to Cleveland in 2008. Katie is a scrappy entrepreneur and a determined worker, completing projects in impressive time, a true asset when there is always more to do and see. Katie loves traveling in Europe (her sister lives in Manchester), dresses with pockets, reality television, and anything pink. 
"Katie and Jasen are a dream to work with. They took the time to truly understanding my vision, my business, and captured the look and feel perfectly. Their creativity and professionalism is unmatched."
–Summer Aims, Celestial Charm
"Hiring Katie and Jasen to do my logo was one of the best business decisions I have made. After literally years of designing my logo myself and then redesigning over and over again (and still not being happy with it), I decided to hire a professional graphic designer. Insert Fizz Creative. Katie and Jasen were phenomenal throughout the whole process. I didn't 100% know what I wanted, and that was ok because the way they approached the design process helped me figure that out. To this day I am COMPLETELY happy with my logo. It has helped me develop my brand and form all of my marketing materials in a cohesive manner. Fizz Creative is worth every penny." 
–Holly Green, Green Holly Photography
"When we started the business, it was really important from the very beginning to develop a strong brand and logo. We weighed our options, but once we met Katie and Jasen, there was no question that we had found our team. The combination of their design expertise, creativity, and thoughtful development resulted in a brand that we couldn't be happier with – they totally nailed it in terms of the aesthetic and feeling we were attempting to convey. We constantly receive compliments on our brand and packaging – many from those in the industry who see thousands of examples every day. What sets Fizz apart is their commitment to getting to know and really understand the client's story, needs and goals. Their work is unparalleled, and they are terrific to work with. They are also two of the nicest people you will meet!" 
–Jen Ferone, Nine Spoons Soup
"Fizz really took the time to get to know our business, mission, and values before helping us rebrand our organization.  The result was a brand we feel represents us well, and we have continued to incorporate this in ongoing marketing pieces.  We involve Fizz in all of our marketing discussions as they always have valuable insight and ideas.  Fizz develops a timeline and a budget at the start of every project…they are great at keeping everyone on the same page and making sure that deadlines and budgets are met."
–Julie Jurosic, Anchor Financial Services
"I am an intellectual property lawyer working as a solo practitioner.  When I began my business in 2013 I was desperately seeking a way to establish my business identity that would communicate my professionalism but also a little bit of my personality. Since intellectual property is a rather male dominated profession, I wanted to convey my feminine side while still maintaining a professional demeanor.  I contacted Katie and Jasen based on a referral I received from a fellow colleague. From the start, Katie and Jasen were amazing. They began a dialogue that helped bring to light my actual needs and purpose. Once we had established how I wanted to represent my brand, Katie and Jasen developed several different design options for a brand logo, including different styles, fonts, colors, etc. I was blown away by the quality and artisanship! Each option was so creative and unique that I actually had a difficult time selecting just one. Once we settled on a logo design, Katie and Jasen designed stationery, matching envelopes, and business cards, and helped me order these items at the best quality and at a cost that met my original budget. I have received several compliments over the past few years on my logo and stationery. I couldn't be happier with my choices thanks to Katie and Jasen. One of my favorite things about working with them, aside from the excellent quality and beautiful artistry, is that they are so kind, helpful and personable. I still contact them on occasion for tips on printing, promotional items, and other business related activities and they are always so helpful!"
"When starting our research institute, we wanted a graphical element that captured the essence of what we do, but also reflected our ties to the Cleveland area. Katie and Jasen first explored our space and the figures and graphics used in our field, then started the design process. The end result is an award-winning brand which has helped us establish our presence both locally and nationally. It has truly become a part of our identity, and we are so pleased with the result. I highly recommend Fizz!"  
–Will Bush, Institute for Computational Biology